Getting Enable fibre broadband connected at your property requires bringing the fibre duct from the street up to your home. It's usually pretty straight forward, but there are some decisions that need to be made.
The Enable technician that visits your property at the Plan appointment will talk through the following options – and help you make the best decisions.
You don't need to prepare anything specific but thinking about the following may help.
1. Find where on your boundary the Enable's fibre broadband network is located, by locating the Enable marker.
This is where the network will enter your property. If there are several Enable markers, your technician will advise which one is allocated for your property.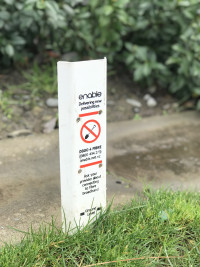 2. Think about where the External Termination Point (ETP) could be attached to the outside wall of your property.
The ETP will feed fibre through to the inside wall of your home.
3. Consider how you would like Enable to bring our fibre ducting from the boundary marker to the outside wall of your property.
There are three ways we do this [blog: how Enable brings fibre from the street to your home].
Our technician will discuss your preference with you, explain if there are any limitations around what ways will work at your property and work with you to choose the least disruptive method.
4. Consider where you would like the network equipment (including the WiFi router) installed inside your home.
It's important for you to consider which central location in your home will be best suited for optimal performance of your fibre connection, as well as where there are currently powerpoints and where you need the best WiFi coverage. It's also important to note where any devices that you want plugged in to the modem are used (e.g. telephone if you've ordered a voice service as well).
Our network equipment includes an Optical Network Terminal (ONT), an ONT power adaptor, and in some cases an Internal Termination Point (ITP) and yellow optical cable.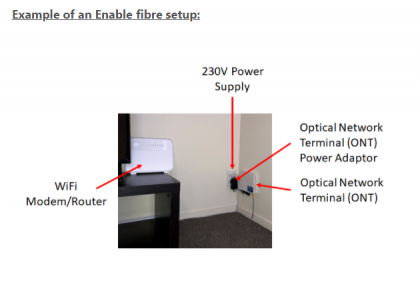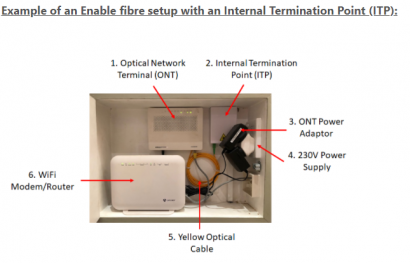 *Your ONT may be a different model or colour, contact your internet provider for more details. For more information on what a fibre setup inside the home looks like, view the article in our Help Centre here.
In a lot of cases selecting a location for the External Termination Point ETP on the outside wall that is close to the preferred location for the network equipment inside the house, will minimise disruption to your property.
Remember, our technicians are trained to discuss all of this with you and work through any limitations to how the work can be done at your property and ensure you have an excellent experience getting fibre broadband installed.
If you have any questions, please don't hesitate to contact us!